With the Songs:
1. Raunio I
2. Alotus
3. Raunio II
4. Kultaa [mp3]
5. Raunio III
6. Lokki [mp3]
7. Dedofiktion
8. Potto
9. Raunio IV
10. Raubonmix
Ollio Joukio-Drums
Jyrki Laiho-Guitar
Jussi Lehtisalo-Bass, vocals
Mika Rättö-Vocals, keyboard, percussion
Janne Westerlund-Guitar, vocals
Raunio is a reissue of the album originally released on Ektro (Lehtisalo's record label) in late 2001. The Squealer reissue includes the extra track "Raubonmix" not on the original album.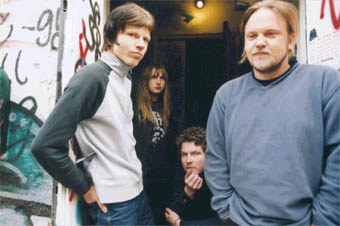 "Simply put, Circle is the most internationally visible, prolific exponent of the outstanding yet criminally obscure Finnish underground. Formed in 1991 in the bucolic coastal city of Pori, the group constantly reinvents, expands upon and refines its hypnotically repetitive, instantly recognizable meld of megaton riffs, Teutonic rhythms, surging fuzz storms, icy synth drones and hymnal, delicate vocals. The band's sharp technical prowess, revolving stylistic obsessions, unstable lineup and berserker live shows have delighted, pissed off and dazzled a growing cult of international thrill-seekers. Led by guitarist-turned-bassist Jussi Lehtisalo, Circle has adapted and personalized bits of progressive rock, metal, ambient, punk, noise and psychedelia without ever seeming derivative, dilettantish or corny."
Raunio features "several live versions of the same song pile up in weird, cyclical collages of wild edits, studio manipulation and shamanistic babbling from Rättö, now a full-time participant. With the departures of Niemelä (who joined in 1997), guitarist Elo (whose tenure dates to 1993) and drummer Janne Peltomäki (onboard since Hissi), Lehtisalo has reinvented Circle as a cosmic metal monster. "-Jordan Mamone, Trouser Press
The CD is now sold out. Tracks are available for download at eMusic.
The complete Trouser Press biography and discography by Jordan Mamone.
Aural Innovations Radio Show #68-Circle and Friends in streaming Real Audio.