High Rise 2 and Dispersion were reissued in the US in late 1998. Live and Disallow were reissued in June of 1999.
High Rise
Asahito Nanjo-Bass, Vocal
Munehiro Narita-Guitar
A succession of drummers....
High Rise is an explosive power trio comprising the core of Asahito Nanjo on bass and vocals and Munehiro Narita on guitar, joined by a succession of drummers (including Yuro Ujiie, Pill and free-jazz veteran Shoji Hano in the past, and Koji Shimura currently). High Rise mix the jazz-influenced improvising of live Cream with the often brutal amphetamine-inspired rock of Blue Cheer. Narita is one of rock's unsung guitar players, and his dexterous fingering causes eruptions of pure electric joy. The other players are equally stunning in their total commitment to this high energy music that features the freedom of jazz and the power of rock.
The four records above originally appeared on the Japanese P.S.F. Records label. P.S.F. has explored the dark ends of the free noise and heavy rock spectrum with releases from Keiji Haino, Borbetomagus, Kan Mikami, Fushitsusha and many others.
Bassist Asahito Nanjo of High Rise also performs in several other bands, and you can find a very complete discography of High Rise and the individual member's projects in the discography section below.
Besides press reviews of all of the band's records, within the reviews section below you can find our transcriptions of interviews with Nanjo and Narita that appeared in the magazine Opprobrium. These interviews are incredibly complete, and give a great deal of insight into the band. If you are at all interested, these interviews are required reading....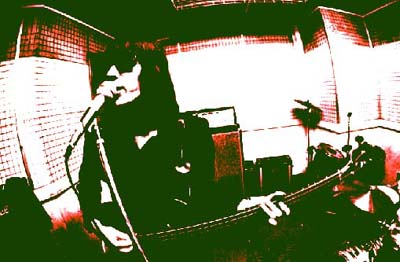 High Rise 2- LP and CD are both out of print.
Dispersion- LP and CD are both out of print.
Please note that the vinyl LP's for High Rise 2 and Dispersion have different artwork than the CD's, though they have all the same music (see photos above). The LP's are screenprinted by hand, and each one is unique. Side four of the Dispersion LP features a carved image. There is no music on that side. The High Rise 2 and Dispersion LP's were limited to 500 copies each and will not be repressed.
Live- LP and CD are both out of print.
Disallow- LP is out of print/CD $13.00 postpaid
The LP versions of each of these records feature full-color covers that are similar to those found on the CD's. They also include all of the music that is found on the CD's, and side four of the Live LP features a carved image. There is no music on that side. Each of these albums are limited to 1000 copies each and will not be repressed.
All is not lost, however! The Black Editions label is undertaking a huge P.S.F. reissue campaign that will include High Rise titles. We don't know all the details, so head over to their site for the latest info.

To order the Disallow CD click here.